It's We Want to Know Wednesday Time hosted by:
Impulsive Addict
, Janette,
Mamarazzi
and
Seriously
Shawn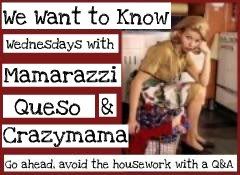 This week's questions are from Janette.
1) Everyone seems to have a quirky family situation-- what is something unique about your family dynamic?
My goodness what isn't unique about my crazy family. I could go on and on and on. For instance a few months ago my brother Boo (who's picture you have to see in my About page above if you haven't yet), and his boyfriend moved into my mom's basement, bringing Boo's whacked out dog with them. Weeks later, Boo had a job opportunity in a town 50 miles away and moved in with a friend to pursue that opportunity. Leaving his boyfriend living with my mom. That same week, my Dad split up with his gf and started sleepingon my mom's couch (with his dog). So it was my mom, my dad - who she has NOT been married to for years, and my brother's boyfriend all living together - with their dogs. You can't get much more comically dysfunctional than that.
This is actually how Boo and Bubbles sleep.
2.) What is the most stressful aspect to blogging (aside from the network going down)?
Finding time to do it! And my ever growing backlog of started posts that have yet to be finished. That, and mystery stalkers and not being able to post certain things because some of my followers like to say bad things about me and don't realize that I have ways of finding out about it.
3.) We all end up on a blog at some point in our day, but name your top 3 favorite websites you flock to daily (non blog)!
Facebook (all 3 - my personal FB, Blog FB, and Pseudonym FB that goes with the blog FB), Gmail (personal and blog accounts), and The Animal Rescue Site - which is my home page on all my computers (work, home, MacGyver's). It is an amazing site that donates money to wonderful charities and all you have to do is click! You MUST check it out if you never had. Plus, they have a great store with the BEST products - which also help charity!
4.) What's your sign? Believe in it or not, does any part ring true to you?
I am a Scorpio, and while I don't really "believe" in Astrology, I love it because I think it gives a person a new way to look at themselves, new things to consider. That, and I am so, so Scorpio:
I actually have this magnet on my fridge. NotDonna (cancer) and I got them for each other many, many years ago.
According to the first in my favorite series of Astrology books, Born on a Rotten Day, says of Scorpio:
- Argue with one, and suffer a verbal beating that makes you wish they had slugged you instead.
- There is nothing superficial about a Scorpio female.
- She fears nothing, questions everything, and will go to the ends of the earth for a friend or lover. She could read the Bible to the Devil and make him listen.
- All Scorpio women instinctively know that the fastest way to a man's heart is through his ribcage (I've had that quote on my Facebook for YEARS before finding it here)
- Known for vicious verbal barbs
- Scorpio is the sign of the prosecuting attorney, psychopath, Mafia negotiator, and evil surgeon.
And from random Astrology websites:
- Scorpio sexuality is so strong that is has made Scorpios famous for being the best lovers out of all the different zodiac signs.
- Scorpio is the sexiest sign, the mysterious partner, the vengeful destroyer, but Scorpio is also the redeemer, the protector, the monk, nun, and aesthetic. The Scorpio is powerful and in control, and he or she can channel and sublimate their enormous sex drive into their career, art, or even their religion (thus, the Scorpio monks and nuns).
- Passion is the keyword for this sign--they are passionate about everything that is important to them. There is a duality about Scorpio which affects every area of his or her life; you will find yin and yang, God and Lucifer, Heaven and Earth all wrapped up in a condensed package known as the Scorpionic Soul. Is it any wonder that quite a few Scorpios are bi-sexual?
That's probably more Scorpio crud than anyone was interested in reading (unless you're a Scorpio yourself). Especially in light of the fact that one of the aforementioned unfinished posts is about MacGyver and my zodiac wheels - moon signs, risings, the whole 9.
5.) IceCream!! ICECREAM!! We all scream for icecream! Name your favorite flavor/brand! (Its hot here, can't help it)
98% of the time, we only eat frozen yogurt or sorbet these days. It's hard for me to pin down a favorite because my favorite thing is variety. BUT lately I've had a killer craving for a big scoop of vanilla bean (for some reason I detest french vanilla) frozen yogurt on top of a warm spinach brownie topped with gobs of hot fudge and crushed nuts. How's that for an unhealthy craving? Ha. Hot fudge is my eating healthy nemisis.
BONUS QUESTIONS if you dare..
A. Name the blog you credit for linking up with us today?
Honestly, I have no idea. Most likely Impulsive Addict or MiMi.
B. Suggest a question you want to see in future WWTK's!
Hmmmmm . . . That's a tough one, and for some reason the only questions that are popping into my head right now are rather risque. Must be all that Scorpio talk. . .
Lastly, if you have any thoughts on Buddhism, please weigh in on my previous post. Thanks!