Jumping in again
with
Impulsive Addict
and
Seriously Shawn
For Talk To Us Tuesday because it has NO RULES! And that's about the only thing I can committ to these days.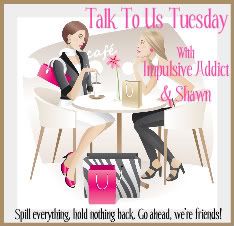 Man, oh man, what a week! And it's only Tuesday! The other lawyer is out of the office for the whole week, and I was already behind at the beginning of the week, so things have been crazy to say the least. And I'm drowning myself in teas and herbal remedies trying to fight off this sneaky little cold since being sick just isn't an option this week. Yesterday I tried to run it out of myself, which seemed to help so we'll see.
MacGyver's been super busy, too. Contemplating a new career and juggling a million balls in the air. I have no idea how that man does it. He's also working on and heading up committees for the church left and right,
and
battling the insurance company,
and
performing routine vehicle maintnance
because heaven knows I'm not about to do it
. He lead the most beautiful Ostara ritual on Sunday. I can't wait to upload the pictures, if our friend who took them ever sends them to me.
And even in the midst of all the swirling chaos of our lives, it's still important for us to find time for each other, to remind each other that we're still in this together and that we're still completely in love. I've mentioned before that we have a journal that we've passed back and forth to record our feelings to each other since way back when we were in a long distance relationship. Well, needless to say, neither of us has a whole lot of time for epic romance sonnets these days. So we also have this:
It's just a sheet of (recycled) notebook paper in a cheap frame. We keep it in our master bathroom and use it to write little love notes back and forth to each other nearly every day. You can also fancy it up with scrapbook paper, but I went the tree saving root with a little less dye. You can
also
just write on the mirror in dry erase marker, but I always feel guilty erasing MacGyver's beautiful words when I need to do my hair.
What little gestures to you share with your loved ones?
Finally, on a totally unrelated note:
Won't you balance some eggs with us?